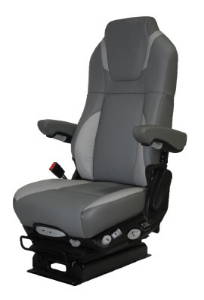 OEM Service Kits for Kenworth Truck Seats
Listed below are illustrations and descriptions of the operation of features or equipment which may be either standard or optional on the Kenworth truck seats. These manuals may also include a description of features and equipment which are no longer available or were not ordered on this vehicle. Please disregard any illustrations or descriptions relating to features or equipment which are not on this vehicle. GRA-MAG reserves the right to discontinue, change specifications, or change the design of its seats at any time without notice and without incurring any obligation. The information contained in this manual is proprietary to GRA-MAG. Reproduction, in whole or in part, by any means is strictly prohibited without prior written authorization from GRA-MAG Inc.
Click below either 703, 702, 701 or Static GRA-MAG Kenworth seats which will display Kenworth OEM parts with downloadable PDFs links. For more details, see our videos on installation and removal.
To order replacement Kenworth seat parts or have additional assistance, please contact your local PACCAR dealer.